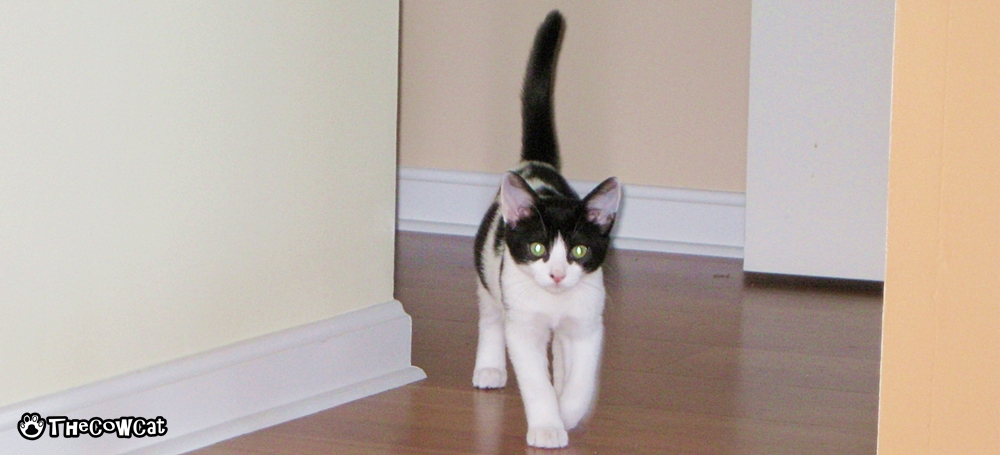 Hi Everyone! Today I wanted to reflect back about what a lucky cat I am! I was born with 7 brothers and sisters. We were all taken to the animal shelter soon after we were born. We were all still very little, too small to be adopted yet. We were very scared with our new surroundings and we didn't understand what was going on. Our whole litter was full of cute kittens and we were all desperate to get out of there and go someplace safe and warm. How did such a fate happen to a group of cute furry kittens?
In a few weeks, we were put out into a room that was all glass. We had some toys to play with, food to eat, and we saw lots and lots of people come by. One by one, my brothers and sisters disappeared and I never saw them again. I wanted to get out of this room too, but suddenly I found myself the last cow cat in the room. I was all alone and scared. I would bang on the glass and meow loudly whenever someone came by and looked at me. I was a very happy cat and would be so much happier out of the room!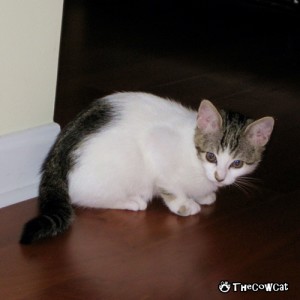 Finally, someone came in and wanted to take me home. They took me from the room and got me ready. They brushed my hair, rubbed me with a warm cloth, and poked and prodded me a bit. The next thing I knew, I was back in the room, alone and scared.
I wasn't sure what I had done to deserve this, but I wasn't happy at all. Then again, someone came by and came into the room. I jumped up into his arms and was purring loudly. Suddenly this person took me from the room and put me in another room where there was one very small and cute kitten female. She was sleeping on the top of a tree in the room. She was also all by herself. I was so happy to see another kitten I rushed over and jumped on top of her and closed my eyes and started to go to sleep too. She opened one eye, gave me a dirty look, and went back to sleep.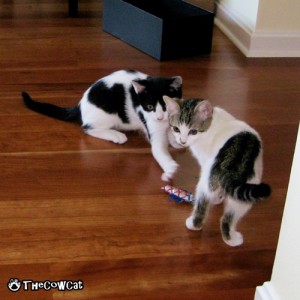 The next thing I knew, I was in a box with holes in it. I didn't know what was happening. I could see the other kitten also in a box with holes in it. I know we went outside and someone kept trying to pet me through the holes. Then suddenly, we were taken out of the box and we were in a new and wonderful place. I was in a nice place and with the person I saw take me from that terrible glass room. The other kitten was with me too, boy was I glad to see her. We had lots of toys in our new home, plenty of food, water, and most importantly, love. We had someone that wanted to adopt us and help give us a good life. I felt so lucky to be the last cow cat adopted at the agency. You see, I was a sick kitten at the time, so no one wanted me. My "sister" Soda, was the runt of the litter. I've now grown into a big, fun, cute cat, and Soda has also grown up nicely too.
I hear daddy tell people that the people who didn't adopt me right before he did missed out on the best cat ever! I say I'm the lucky one and that fate brought us together. Puuuurrrr!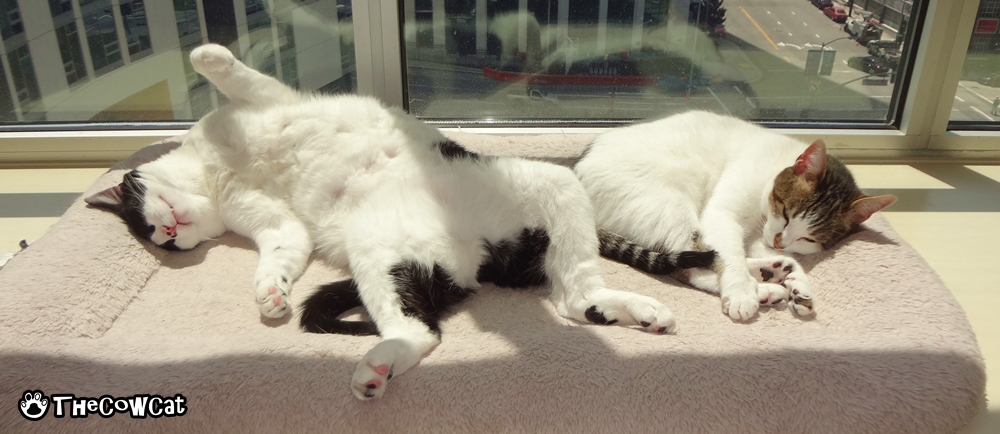 You can also read my adoption story my dad wrote on Cute4Kind website here!
Comments
comments